"Foto van Radio Control, Nederlands grootste rc-tijdschrift"
PHantasy in Blue can be found now on it's own page. Use the
AIRTOI MENU's
or
go there now
---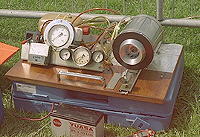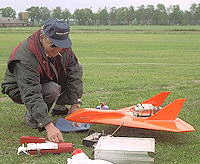 In 1995 I've seen for the first time a flying model airplane powered by a micro gas turbine. It was a slightly modified Puma with the turbine mounted on top of the plane. The turbine was home made by my club fellow Theo Walravens.
Theo is further developing his own turbines and also shows them flying as you see on the pictures.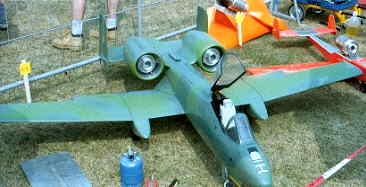 One of Theo's more recent projects is this A10 powered with two of his home made turbines. The picture on the righthand site was taken in August 1997 at the Inter-ex in Nederweert.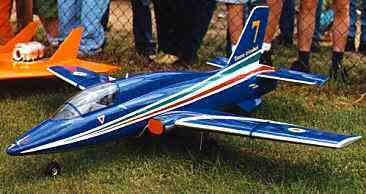 In May 1998 Theo showed me his new Aeromacchi M.B. 339K powered with the home made WJK turbine, a Walravens modified JK turbine.
Unfortunately this plane wrecked at the Jets over Pampa 1999, but Theo is already building a new one.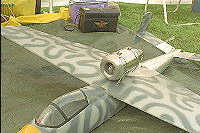 On a 1996 airshow I spotted another guy building micro gas turbines: Bennie van de Goor from Advanced Micro Turbines (AMT). Together with Han Jenniskens he manufactures the Pegasus Mk3 turbine. The sound is that of a real jet engine, but at a far lower level. It's even more quiet than 'normal' engines for model airplanes.
As of 1996 AMT has developped a new turbine (named Olympus) that produces 50% more thrust than the Pegasus Mk3.
Starting from 1998 there is a new smaller turbine available from AMT called Mercury.
---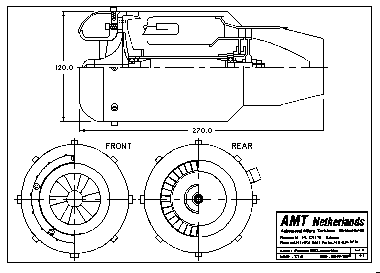 (What AMT tells about the Pegasus Mk3)
The Pegasus MK3 is a revolutionary design gas turbine which has been developed during the last 3 years. The MK3 is a single shaft gas turbine with an annular combustion chamber, a single stage compressor and a single stage axial flow turbine.
The axial flow wheel is the reason for exceptional thrust to weight ratio, which is unique. The engine needs no oil reservoir but uses fuel to lubricate the composite hybrid bearings. This new system gives you maximum reliability.
The control unit offers you several features. These are very helpfull when operating the turbine. The assisted start up sequence offers easy starting procedure. When the engine is running, the control unit alllows you to safely throttle up the engine to maximum power as quickly as possible, while the control unit maintains the safe operation level at all times.
In general the control unit throttles up the engine from minimum rpm to maximum rpm in less than 4 sec. Throttling down from max. rpm in less than 2 seconds.

Hybrid bearing: high speed angler contact bearing (German: Spindel Lager) with ceramic balls and metal rings

The engine is started using compressed air (8 to 9 bar) untill about 9000 rpm is reached. Then propane gas is injected and ignited by a plug. Again compressed air untill about 10K rpm. When the ECU (Electronic Control Unit) spots an exhaust temperature of 150 degrees Celsius, kerosine is pumped in. The engine then runs on compressed air, propane gas and kerosine. Now the propane gas is disconnected. When the ECU spots about 50K rpm the compressed air may be disconnected.

For viewing status and functions of the turbine in real time there are two options now: a laptop computer may be used or the new developed EDT (Engine Data Terminal). The EDT has a 4-row, 20 character LCD display. This Telemetry features are optional. Also a completely automatic startup is available, making starting the engine as simple as pushing a button.


Please contact AMT directly for exact prices and conditions. See the AMT homepages for more information.

AMT Netherlands , e-mail:

---
Other manufacturer's turbines will be highlighted on this page in the future as well as info on ECU's and self starting equipment.
---
For more 'Jet-stuff' (f.i. link to The F18 Project) visit my
Jet related linkpage
All links found there have some relation to jets, turbines or pulsejets
---