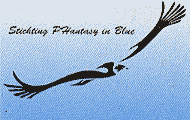 Stichting

PHantasy in Blue

realises (on a non profit base) flying scale models of historic and contemporary planes.


The scale fleet of the Koninklijke Luchtmacht (Royal Dutch Airforce) has grown now to almost 50 scale models, to be completed before March, 11, 2003, the day of the 50th anniversary of the Royal Dutch Airforce (Koninklijke Luchtmacht)

The last exposition was from March, 6 to April, 26, 2003 in the

Militaire Luchtvaart Museum

Kampweg 120

3769 DJ Soesterberg

You may use this

Routeplanner

to determine your route from any place in the Netherlands to the Museum

(TIP!! use postal code 1012 JL [Damsquare Amsterdam] if you have no idea where to start from)





This scale 1:5 Starfighter -equipped with an AMT Olympus engine- is one of the 15 scale models (all at scale 1:5) that were built in a project for the Royal Dutch Airforce.


See the builders homepage: Frans Feijen, F-104 Starfighter
The 5 other jet models out of this 15 are equipped with the AMT Pegasus.
Code-name for the project was PH-Klu.
PHantasy in Blue also did Operation Scale '94 (35 models of historic and current KLM fleet).

The 15 scale models -representing the history of the Royal Dutch Airforce- could be seen (static and flying) for the first time at the the 'Open days' held by the Royal Dutch Airforce at Vliegbasis (airbase) Leeuwarden on July, 3rd 1998.
On that day all models have been officially handed over to the Koninklijke Luchtmacht (Royal Dutch Airforce).

The 15 models are:
(Pictures of these models can be found on the PH Blue picture page)
Marinus van Meel, De Grote Brik
Fokker, D-VII
Fokker, C-IV
Fokker, T-V
Fokker, D-XXI
Fokker, G-1a
Brewster, B-339 Buffalo
Glenn Martin, 139/WH3
Supermarine, Spitfire Mk IX
Gloster, Meteor Mk IV
Republic, F-84G Thunderjet
Republic, F-84F Thunderstreak
Hawker, Hunter F Mk IV
North American, F-86 K Sabre
Lockheed, F104G Starfighter

The 34 new models in order of scheduled completion:
Most models will be at scale 1:5, but two of them will be at scale 1:7.
North American, NA-62/B25-J Mitchell
Curtiss, P-40N Kittyhawk
Vultee, BT-13A
Fairchild, PT-19A
North American, B-25D modified Mitchell
Beechcraft, Staggerwing
Fokker, C-Vd (with RR Kestrel)
Fokker, C-X
Koolhoven, FK-51
Ryan, STM-2
Curtiss, Hawk 75 A-7
Fokker, S-IX
North American, P-51D Mustang
Curtiss Wright, CW 21B Interceptor
Curtiss Wright, CW 22B Falcon
Percival, P-30 Proctor Mk IV
Lockheed, L-18-40 Lodestar
Lockheed, L-12A
Beechcraft, AT-11 Kansan
Farman, HF-22
Fokker, C-1
A.V. Roe, Anson 652 MkI
Airspeed, AS-46 Oxford MkII/IV
A.V. Roe, 504K
De Havilland, DH-89B Dominie MkI
Douglas, C47-B Dakota (scale 1:7)
Fokker, D-XVII (with RR Kestrel)
Fokker, F-27M (scale 1:7)
Fokker, S-14 Machtrainer
Lockheed, T-33A
Republic, RF-84F Thunderflash
Hawker, Hunter F.Mk.7
Sud Aviation/Aerospatiale, SE3160/SA316 Alouette III
North American/Noorduyn Aviation, AT-16 Harvard
---
©2003 Toine Martens