| | |
| --- | --- |
| | Gallery Pampa 1999 |

Pictures without a copyright notice are © Toine Martens
New F-22 pictures added


All pictures from Jets over Pampa 1999
Clicking on pictures with a link will show you the big picture (appr. 15 to 30K each). Use the BACK button of your browser to return here.

---




Wim Reinders, Avonds Starfighter F104 with AMT Mercury turbine

---




Rafale , pilot Godfried Lemmens
Aviation Design Kit with AMT Olympus turbine

---


Rear view of Philip Avonds's F-15 with AMT Pegasus turbine

---




Philip Avonds F-15, left and middle picture: Philip Avonds, right picture: Richard Jeunen

---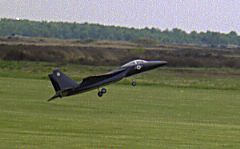 Two times a take off
Right picture: Geoff Wallace, Avonds F-15 with AMT Mercury turbine

Mike Gay e-mailed me about the left picture:
"The model on the same line as Geoffs F15 is Thomas Singers world jet masters entry F-86F, Japanese Blue Impulse display team colours from the Fibreclassics kit with as far as I recall it has a Jet Cat turbine inside. How do I know? I was flying a red Spectre, hopefully I will be there again for the fourth year this time with a Simjet powered Kangaroo......."
---


Kangaroo with Sophia Precision turbine
The pilots name is Paul Gray, he is the UK importer of the sophia j850 turbine

---



Mark Leavesley and his team with detail of tail section of their BVM Bandit
BVM Bandit, powered with an AMT Pegasus turbine

---


Beautifull A-10 powered with two electro ducted fans
The model was manufactured by JéPé Fiberatelier (Jean Paul Schlösser). See Jet related links for his homepage.

---




F-22 Raptor designed and built by Wolfgang Mrotzek and powered by an AMT Pegasus.
Wingspan 1.35 m, length 1.95m, take-off weight 15 kg.
Carbon-fiber fuselage, balsa parts skinned with carbon-fiber.
Foam wings with carbon-fiber reinforcement.

The guy in the center is Klaus Schumacher, the pilot of a 22 kg thrust AMT Olympus powered F-22. Unfortunately there is no picture from this 'Shooting Star of Helchteren'. His machine is almost everywhere carbon-fiber reinforced.

On the right in the background the YF-22 of Andreas Unterbusch also powered with AMT Pegasus.
His plane is completely made of Balsa, but a litlle to heavy (17 kg)
End october 1999 Andreas made a test-flight with a new F-22 Raptor from Wolfgnag Mrotzek.

Here are the pictures (all © Andreas Unterbusch) of this machine that he will fly at Pampa 2000.

Scale of the modell is 1:10.
Wingspan 1.35 m, length 1.90m, take-off weight 15.5 kg (with 3 litres of kerosene).

---

Any comment, tip or suggestion for this page? Let me know


And remember this for your next visit:


©1999, 2000 Toine Martens