| | |
| --- | --- |
| | Gallery Pampa 2000 |

Pictures without a copyright notice are © Toine Martens

Pictures from Jets over Pampa 2000: scroll down

Official results as given by the president of the Pampa Model Fighters
Pilot
Plane
Engine
1
Marijn Penninx
F86D Sabre
AMT NL Pegasus
2
Bert van der Vecht
DH108 Swallow
Jetcat
3
Philip Avonds
F15-Eagle
AMT NL Pegasus
4
Dotzauer
Eurofighter
Jet cat
5
Arno Knell
P59 Aircomet
Home built
Best flight
Mark Leavesley
BVM Bandit
AMT NL Pegasus
Best electro
Dirk Wouters
TA-183
???
Biggest model
Gert Rheinsch
Airheinsch Gnat
AMT NL Mercury
Best sport model
Jim Fox
Kangaroo
Simjet
Best ducted fan
Steve Brett
Polaris
???
Best turbine
Bennie van de Goor
He 163 Salamander
AMT NL Pegasus
Best civilian
Kuhlman
Skyjet
???
Best military
Wim Reinders
Avonds F-104G
AMT NL Mercury
Longest travel
Mario Pirotti
Hot spot
???
Smallest model
Niek Wierda
Pibros
sp300 EDF Homebuild
Most unlucky
Wolfgang Mrotzek
F-22
AMT NL Pegasus
---
Pictures made at Jets over Pampa 2000
More pictures will be added asap
Clicking on pictures with a link will show you the big picture (appr. 15 to 30K each). Use the BACK button of your browser to return here.

---
Left picture:
Hawker Hunter.
Right picture:
in the foreground the NF-5 of Leon Bimbergen, AMT NL Olympus
Second plane: North American F-86K "SABRE", built by Marijn Penninx, the winner of the first price.
Wingspan 2.38 m, lenght 2.49 m. weight 17 kg, Max speed 250 km/h, AMT NL Pegasus
The third plane (just the nose visible) is the Ph Blue F-84 Thunderstreak, AMT NL Pegasus

---


Best civilian award, Skyjet from Kuhlman Modellbau

---



Gert Rheinsch, Gnat 2000
Biggest model award with a wingspan of 2.20 m , a length of 2.30 m and a weight of 12 kg (dry weight)
The model is powered by an AMT NL Mercury and completely made from balsa covered with paper

---
---


Eurofighter

---


Dieter Tolkemit: home made delta with BEHOTEC turbine
Normally equipped with a pulse engine, but here adapted for turbine use.

---


Mike Cherry , Philip Avonds F-15 kit, powered wit AMT NL Mercury

---



Bruce Oxley, a Canadian living in The Netherlands, Avonds F15 kit
Made the turbine (KJ66 based), exhaust and landing gear himself
On the right side in the background of the left picture you can see the Gnat 2000 of Gert Rheinsch.

As stated on Bruces Home Page (see JetLinks): "It uses the Mini Hobby Controller for the turbine ,very simple device which regulates the speed of spool-up ,makes sure the temperature remains at a safe level and also limits the min.,max rpm.The air brakes are controlled by the German controller (Jet-tronics) which allows proportional braking."

---



New F16-C kit for 8 to 12 kg (17-27 lbs.) thrust engine
designed by Eric Rantet from Aviation Design
Scale 1:6.8, wing span over missiles 1.47 m, lenght 2.21 m
weight 11 kg with missiles and AMT NL Pegasus turbine

---



A7 Corsair II, wingspan 2 m, lenght 2.38 m
AMT NL Pegasus turbine
Pilot: Bruno Ernesti from RC-Tronics Modellbau Germany

---



Mark Leavesley, BVM Bandit with AMT NL Pegasus

---



SAAB AJ 37 VIGGEN Scale 1: 8.2
GFK fuselage, Styropor Balsa Wings
HAWE landing gear, Multiplex MC 4000
7 Servos + Wingo + ECU - Turbine Simjet 85+
Fuel consumption ca. 2 lt.Kerosin with 4% Turbine-oil / 6 min.
Weight 10.5 kg + 2,4 lt. Kerosin
Currently no series production

Friedhelm Schäfer
Hindenburgstrasse 218
41061 Mönchengladbach
e-mail:

---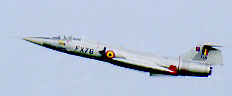 Wim Reinders, Avonds Starfighter F104-G with AMT NL Mercury

---




Ali Mashinchy Jr., Avonds F-15 with AMT NL Mercury HP

---



Hot spot

---



Philip Avonds's F15-Eagle with AMT NL Pegasus turbine

---
Any comment, tip or suggestion for this page? Post them on the

FORUM's
And remember this for your next visit:


© 2000 Toine Martens