Airtoi SPECIAL Nr 4, May 2000

Back to SPECIAL index page
CALIBUR-MOTEURS 5 cylinder&nbsp
Brandnew 5 cylinder Penta 52 from CALIBUR-MOTEURS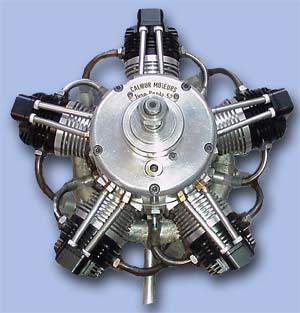 Click on the picture to see a larger one (52 Kb)
Made in Holland
Nederlands (Dutch text): klik hier
This beautiful and very compact 5 cylinder radial engine was developped by Dick van der Veldt to fit into any 1:6 scale model. Dick - a highly skilled model pilot - used all his expertise to make this state of the art engine. The prototype on the picture passed an extensively testprogram with great results.
Series production will start with the Mark II version. A few minor modifications were made to optimize performance.

Technical specifications
Prototype:
220 mm diameter
145 mm inboard length
23.4 mm bore
24.0 mm stroke
51.6 cc (cm3)
3 HP
2650 grams
Operates at 1500-7000 rpm
Runs 7000 rpm with a Menz propeller 20x8 or 18x12
Separate oil chamber for valve distribution
Complete with exhaust ring
The Mark II serie will have a 24 mm bore, resulting in an exact 'square' engine of 54.3 cc.
(Divide mm by 10 to obtain cm and then use the 'Convert' item in the left navigation frame to convert cm to inches.)
Additional information
Currently CALIBUR-MOTEURS does not yet have an Internet site by itself, but is in the process to get one online in the near future.

If you are interested in purchasing this engine, you may contact CALIBUR-MOTEURS using phone or fax
Phone: +31 229 235014
Fax: +31 229 247468
For all questions, additions and comments you might have, you may also use the Airtoi forums
---
Nederlandse tekst:
Klik op het plaatje aan het begin van deze pagina voor een vergroting
Nederlands fabrikaat
Deze 5 cylinder ster motor is ontwikkeld en wordt in serie gebouwd door Dick van der Veldt van CALIBUR-MOTEURS. Dick is een ervaren modelvlieger die al zijn kennis en ervaring in deze motor verwerkt heeft. Door de zeer compacte bouw past de motor in elk 1:6 schaal model. De afgebeelde motor is een prototype. Na een uitgebreid en succesvol testprogramma gaat de Mark II versie nu in serie vervaardigd worden.
Technische specificaties
Prototype:
220 mm buitendiameter
145 mm inbouwlengte
23,4 mm boring
24,0 mm slag
51,6 cc
3 PK
2650 gram
Bruikbaar toerenbereik: 1500-7000
Draait 7000 toeren met een Menz propellor 20x8 of 18x12
Distributiekamer draait in eigen oliebad
Compleet met uitlaatring
De volgende serie (Mark II) krijgt een iets grotere boring van 24 mm waardoor de cylinderinhoud op 54,3 cc komt en de motor exact 'vierkant' is.
Nadere informatie
Op dit moment heeft CALIBUR-MOTEURS nog geen eigen Internet site.

Als u interesse heeft in de aanschaf van deze motor kunt u CALIBUR-MOTEURS bereiken via telefoon of fax
Tel: 0229 235014
Fax: 0229 247468
Voor vragen aanvullingen en opmerkingen kunt u ook gebruik maken van de Airtoi forums
---